World Water Day 2023: hai Announces Partnership with Clean the World Foundation
"A shower makes you feel good. A shower has magic in it. And it's that magical moment of the shower that we have seen change lives."
It's a basic human right to be clean, and a shower can be a catalyst for change. For the team at Clean the World Foundation, they've witnessed this firsthand time and time again.

Dedicated to water, sanitation, hygiene, and sustainability, the Clean the World Foundation is leading a global hygiene revolution. Since it was founded in 2009, the organization has distributed 75 million bars of soap and 5 million hygiene kits, and diverted over 24 million pounds of waste from landfills around the world.

"To be clean, to feel good about yourself, and to have confidence is something that everyone deserves to feel."
That idea of a fresh start is the driving force behind the Fresh Start WASH & Wellness Program. It's Clean the World Foundation's initiative providing showers to those in need, helping destigmatize homelessness, and giving thousands of individuals a renewed sense of hope and dignity. The program contains fully equipped mobile shower units that each offer access to 50 warm showers per day as well as hygiene supplies to individuals experiencing homelessness in cities throughout the United States. Since 2017, the Fresh Start WASH & Wellness Program has provided over 45,000 showers.

In celebration of World Water Day on March 22nd, hai is excited to announce our partnership with Clean the World Foundation.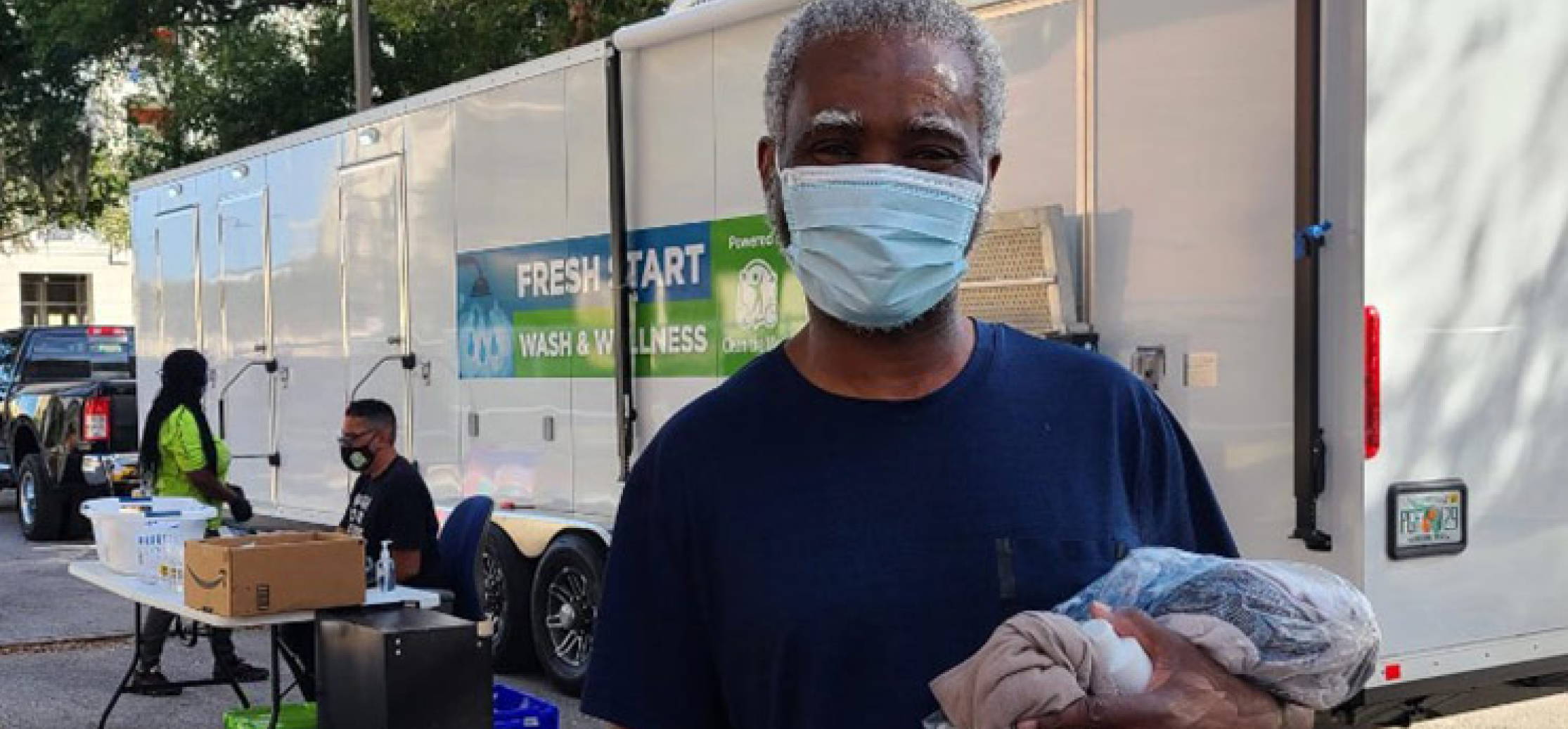 hai has begun installing smart showerhead units for public access at Clean the World Foundation's mobile shower locations in Las Vegas, NV and Orlando, FL within the Fresh Start WASH & Wellness Program and will continue to outfit the remaining mobile showers in locations across the United States moving forward. Through this partnership, hai and Clean the World Foundation are working together to expand access to hygiene resources across the country while also helping consumers be more mindful of their environmental impact.

"At hai, our goal is to encourage people to take action in their lives to change how they use, consume, and manage water," hai CEO and co-founder Leah Stigile says. "Together with Clean the World Foundation, we believe every single person deserves to have access to clean water, sanitation, and hygiene. We are honored to work alongside the Fresh Start WASH & Wellness Program as they continue to support those affected by poverty, homelessness, and humanitarian or natural crises."
In 2015, the world committed to 17 Sustainable Development Goals as part of the 2030 Agenda. One goal in particular was that everyone would have safely managed water and sanitation by 2030. According to the United Nations, as of right now, we are seriously off-track. Over 2.2 billion people still live without access to safe water.
Across the United States, we use more than one trillion gallons of water each year just for showering. Our mission at hai was to combat this figure and create a showerhead that's not only good for you, but good for the planet, too. The hai Smart Showerhead gives you the tools to track and manage your own water and energy consumption, empowering you to tackle our world's water crisis head-on. Our hope is that these insights not only change the way you shower, but transform the way you honor water in and out of the home.

Between hai's commitment to sustainability and delivering physical and mental wellness through water to improve physical and mental health and Clean the World Foundation's mission to save lives around the world by delivering vital hygiene products, we believe there was a natural synergy to team up for this ongoing partnership.
We asked the team at Clean the World Foundation to talk more about their program changing the world for the better.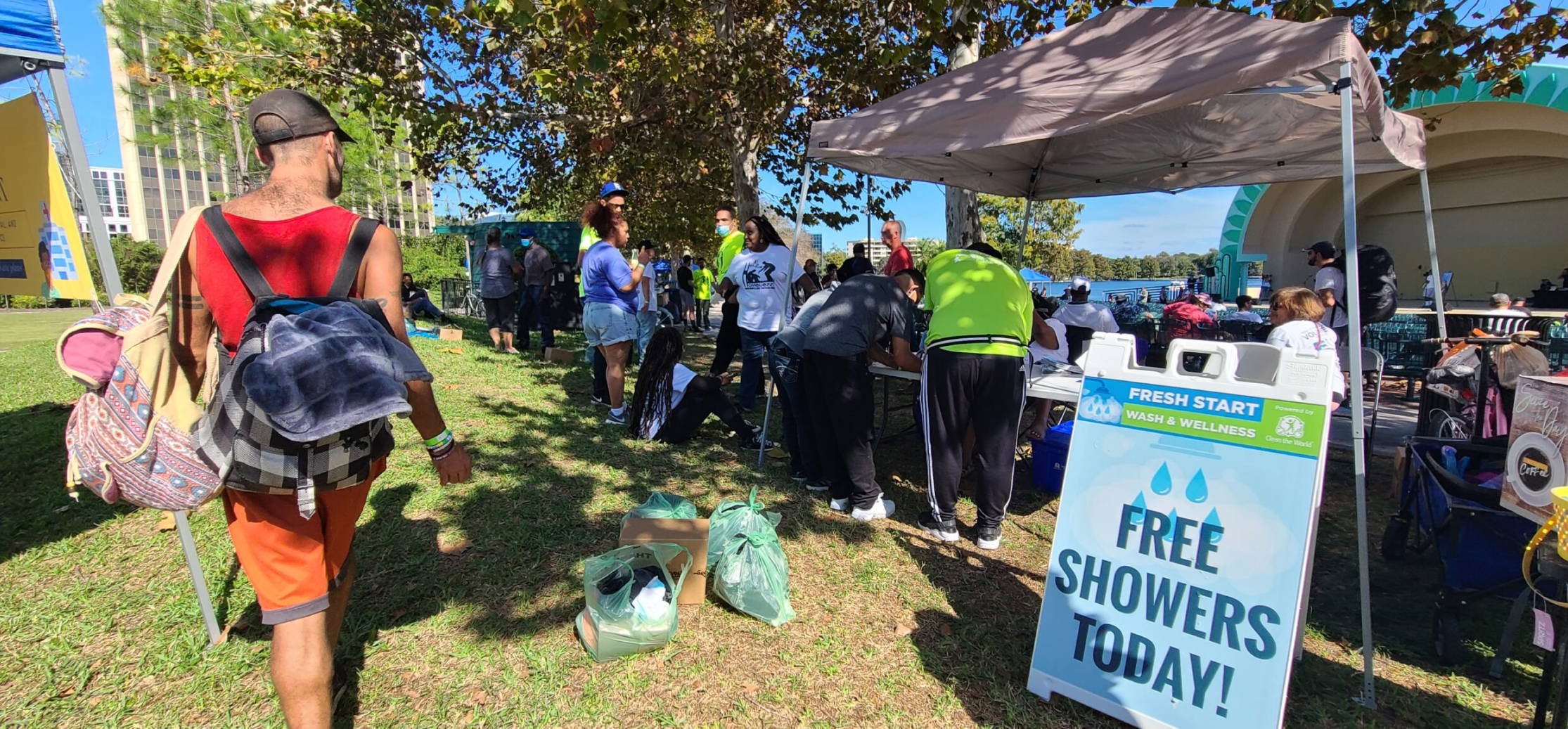 Can you tell us more about the Fresh Start WASH & Wellness Program?

Through completely self-sustained mobile shower units, the Fresh Start WASH & Wellness Program offers showers and other critical hygiene services to individuals experiencing homelessness and economic hardships in cities across the United States. The vision for the program is to reach folks who don't have access to showers and also connected them to other services they may need. The ultimate goal is to transition members of the program to permanent housing and self-sufficiency. We believe a shower is the start of this process.
What impact have you seen the program have on shower guests and the community?

The difference between one of our guests before they enter the shower and after is incredible. They come out and they're so fresh. The look on their face, the smile, the confidence — it's like a weight is lifted off. We have seen homelessness decline by 35% when hygiene and wellness services were offered to the community. The power of water and a shower can restore someone's dignity which is a great opportunity for us to then say, 'How else can we help you can we connect you to someone?' The program isn't just about giving them a shower, it's also trying to figure out a way to give them a hand up and move them forward so that they can someday have a permanent shelter. Not only are they getting clean, but they're starting to build a relationship to talk about the things they need to get from homeless to home.

What does this partnership with hai mean to Clean the World Foundation?

We've seen first-hand the impact that a simple shower can have on people's lives on a daily basis through our Fresh Start WASH & Wellness Program and are committed to continuing to provide high-quality showers to individuals in need across the country. We're thrilled to partner with hai to not only continue providing warm showers for those experiencing homelessness, but to take it a step further with hai's Smart Showerhead to offer a one-of-a-kind, elevated shower experience that gives our guests exceptional water pressure and also helps our Operations team be mindful of our environmental impact.
- Will Alphin, Regional Director, Fresh Start WASH & Wellness Program, Clean the World Foundation.
Images courtesy of Clean the World Foundation. Quotes in this blog courtesy of Clean the World's Mobile Showers - Street Outreach For The Homeless.